Michael King CV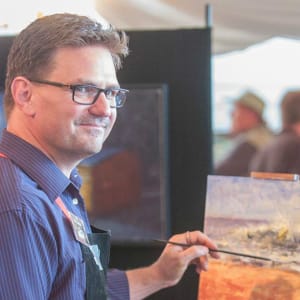 Name: Michael King
Phone: 604.561.5998
Email: mrking©michaelking.ca
Artist Statement
With each stroke of the brush, my attention wanders between technique and intuition. Having built a foundation in the fundamentals of painting and art, I now allow my intuition and educated subconscious to take reign during the painting process. The result is a confidence and freedom to experiment, balanced by precision and mastery .
Rather than capturing a scene the way a camera might record it, I paint as the eyes see. Starting with the focal point, I build shapes through light and shadow, developing the surroundings, and then details fade around the periphery of the image. Our vision and memories are misty and abstracted, scratched and imperfect. Yet they are beautiful in their hazy recollection.
Layering, sgraffito (scratching), and other methods of manipulating the paint are sometime utilized. Creating the scene and capturing the light are of utmost importance, but following the traditional rules of approach rarely crosses my mind. I paint what the scene needs, no more and no less.  My aesthetic is both Impressionistic and representational, a documentary style that is still emotionally evocative and romantic.
I'm devoted to personal study of the art of painting – composition, colour temperature, value, edges and translating the three-dimensional world to the two-dimensional surface. Developing this range of skill allows the flow of instinct and movement during the painting process. With this foundation developed, a painter can then abandon the rules and the search for perfection becomes a journey of personal development.  The eyes see, the subconscious takes reign, and the hands will paint.
Biography
Michael King is a contemporary Canadian painter and art instructor based in Port Coquitlam, British Columbia. He works primarily as an oil painter and is known for soft plein air landscapes, modern still lifes, and portraiture. With an eye for how light, shadow, and colour temperature form the fundamental elements of a scene, King's practice blends representation with Impressionistic aesthetics. This juxtaposition of technique and intuition creates paintings that are poised between observational realism and abstraction.
With his formal education in Industrial Design from Carleton University in Ottawa, King's career in product design influenced his approach to fine art. King places strong emphasis on mastery of the technical aspects of painting, then allowing the educated subconscious to take reign during the painting process.
King's work appears in private collections throughout Canada and the United States and he has won awards in a variety of exhibitions and competitions. He accepts private commissions for still lifes, landscapes, and portraiture.
As an enthusiastic instructor, his workshops teach painting and design in a straightforward, accessible manner with a philosophy grounded in scientific fundamentals of perception, anatomy and observation, along with time proven principles of art.
King is the founder of PleinAirBC.com and an associate member of the Oil painters of America. He is a past president and past vice president of the Fraser Valley Chapter of the Federation of Canadian Artists. He is also a past board member of The Federation of Canadian Artists and the Friends of Leigh Square, in Port Coquitlam. He is an active community member of Port Coquitlam, working with civic agencies and community organizations on arts related and city planning projects.
Education
Bachelor of Industrial Design (with Distinction) :: Carleton University, Ottawa, Ontario (1992)
Workshops lead by professional artists including Robert Genn, Murray Phillips,  Mike Svob, Dianna Ponting, Jerry Markham, Suzanne Northcott , David Goatley and Sarah Kidner.
Exhibitions
2016, Capture Coquitlam, Place des Arts, Coquitlam, BC
2016, Paint the Mountain Plein Air Invitations, British Pacific Properties, Cypress Mountain, West Vancouver, BC
2015, PoCo Portrait Painting Project, Our Time, Our Town, Leigh Square Arts Village, Port Coquitlam, BC
2014, FVC Juried Show, The Act Arts Centre, Maple Ridge, BC
2014, Group Show, Omega Gallery, Vancouver, BC
2014, Spring Show, The Reach Gallery Museum, Maple Ridge, BC

2013, An Artist's View of Your City, Leigh Square Community Arts Village, City of Port Coquitlam
2013, Still Life Show, Federation of Canadian Artist Gallery, Vancouver, BC
2013, SCA's Members Juried Exhibition, Joseph D. Carrier Art Gallery, Toronto, On
2013, Semiahmoo Show, Semiahmoo Arts Centre, South Surrey, BC
2013, Work on Papers, Federation of Canadian Artist Gallery, Vancouver, BC
2012, Painting on the Edge, Federation of Canadian Artist Gallery, Vancouver, BC
2012, Group Show, Federation of Canadian Artist Gallery, Vancouver, BC
2012, Landscape Show, Federation of Canadian Artist Gallery, Vancouver, BC
2011, This Earth of Ours, Place des Arts, Coquitlam, BC
2011, Annual Abstract Show, Federation of Canadian Artist Gallery, Vancouver, BC
2010, Fall Show, Mission Art Centre, Mission, BC
2010, 65 Red Roses Mural, BC Children Hospital, Painting No. 60
2010, Kunamokst Mural, Galiano Island :: Panel 201
2009, Abstract Show, Federation of Canadian Artist Gallery, Vancouver, BC
2009, Still Life Show, Federation of Canadian Artist Gallery, Vancouver, BC
2009, Frogstone Grill, Coquitlam, BC
2009, FCA Chapter Spring Show, Kariton Gallery, Abbotsford, BC
2009, Mixed Media Show, Federation of Canadian Artist Gallery, Vancouver, BC
2008, FCA Chapter Fall Show, Ledgeview Golf & Country Club, Abbotsford, BC
2008, Lumineux  ::  April :: Still Life :: Federation of Canadian Artist Gallery, Vancouver, BC
2008, Red & Gold :: FCA Artist Gallery, Vancouver, BC
Accolades
2014, 2nd Place :: Looking Back, FVC Juried Show, The Act Arts Centre, Maple Ridge, BC
2013, 1st Place, Rocky Surf :: FVC Semiahmoo Show, Surrey, BC
2010, Award of Excellence, Ornaments I, FVC Fall Show, Mission Art Centre, Mission, BC
2009, Award of Excellence :: Style :: Mixed Media Show, Federation of Canadian Artist Gallery, Vancouver, BC
2008, Finalist, The Artist's Magazine 25th Annual Art Competition, Luscious
2008, Best in Show, Luscious, Red & Gold, Federation of Canadian Artist Gallery, Vancouver, BC
Publications
Art Avenue Magazine, My Approach to Plein Air, July/August 2016
Artists of British Columbia, vol. 3, 2011, p. 54-55
Artists of British Columbia, Cover, vol. 3, 2011
Collections
Private collection, Abbotsford, BC
Private collection, Vancouver, BC
Private collection, Victoria, BC
Private collection, Toronto, ON
Private collection, Phoenix, AZ
Private collection, Detroit, MI
Private collection, Philadelphia, PA
Private collection, Redmond, WA
Private collection, Seattle, WA
Private collection, Sacramento, CA
Private collection, Philippines
Teaching
2016, Summer Plein Air Workshop, Federation of Canadian Artists, Vancouver, BC
2015, Involved in Opus "By All Means Create'" video series
2015, North Shore Artist Guild, North Vancouver, BC
2014, Central Fraser Valley Graphics Guild, Abbotsford, BC
2013-Present, Multiple in store Opus demos throughout the year
2012-2016, Port Kells (Langley) Art Group: Instructed an intensive 10 week portrait workshop and a 10 week diverse topic course to help artists improve their painting
2011-Present, Multiple group instructional art workshops throughout the Vancouver Area
2002, Guest instructor, Emily Carr University, Vancouver, BC
Committees

2009-2013, Board of Directors, Membership & Fundraising Chair, Federation of Canadian Artists, Vancouver, BC
2011-2016, Board of Directors, President & Vice President, Fraser Valley Chapter of FCA , Abbotsford, BC
2012-2014, Board of Directors, Member at Large, Exhibition Committee, Friends of Leigh Square, Port Coquitlam, BC
Jurying

2016 Opus Outdoor Painting Challenge :: Langley, BC
2015 Opus Outdoor Painting Challenge :: Langley, BC
2013 Adventure Show :: Delta, BC