Group Art Instruction for your Organization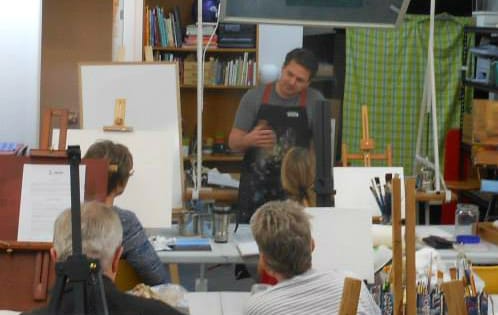 I really enjoy group art instruction and will work with up to 20 students in a group. Twenty or less allows me to provide each student with individual attention throughout the workshop.
I bring with me over 20 years of professional design experience and years of painting knowledge. My teaching style is relaxed and humorous with a focus on simple and clear explanations. Everyone will leave having learned something, many learning more than they want. :)
Contact me directly for my current rates and costs. It is best to plan two or three months in advance but it is still worth contacting me regarding my schedule if you want to book something sooner.
The majority of my workshops run two days but I am interested in longer three or five day workshop schedules as well.
I aim to tailor to your group's requests. However, I always cover design and composition in addition to the principles of shape, value, temperature, and edges, with the focus on how to apply these topics to your paintings, regardless of style.
There are daily demos, handouts and one-on-one critiques.
E: [email protected]       P: 604.561.5998
Michael has been providing instruction to the members of our club since 2012. We have always been able to rely on him to come teach at least one group of 10 session classes every year for up to 18 participant artists.

He is qualified to teach in either oils or acrylics, whatever the group requests. Knowledgeable, entertaining and enjoyable, Michael totally engages all of us each week in whatever adventure he decides to take us. He is always positive in his approach and takes time to work with each participant individually during each class time, sensitive to all levels of ability and self-confidence.

I can say without hesitation that we all truly look forward to each time he is coming to teach.