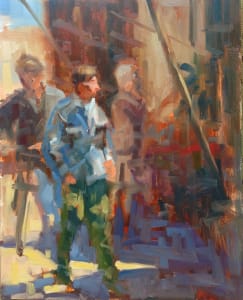 I will be at Opus in downtown Vancouver on Saturday, October 25th from 10:30am to 12:30pm demonstrating "How to Simplify the Complex".
Space is limited so please register early by visiting Opus Downtown or contact them at 604‑678-5889 . All registered viewers will be eligible to win the painting at the end of the demo!
If registration is full, let them know you want to be put on a waiting list. If we have enough interest they will create a second demo later in the day from 2 to 4pm.
I am participating in this years West Fine Art Show at Thunderbird Show Park in Langley from September 5th to 7th. There are 19 featured artists displaying a wide variety of work.
Please join me at the Opening Reception on September 5th from 7 to 10pm, as I display my new work and enjoy the festivities.
The Thunderbird Show Park is located at 24550 – 72 Ave. Langley, B.C. (map) and it is best to enter via 248 St. entrance gate.
I plan on painting on site on the 6th and 7th if you would like to see me work and discuss my process.
I
am a dedicated oil painter with an associate membership in the
Oil painters of America,
a member of 
The Federation of Canadian Artists
and the founder of
PleinAirBC.com
.