Artist Statement
With each stroke of the brush,
my attention wanders
between technique and intuition.
The eyes see,
the subconscious takes reign,
and the hands will paint.
I am a contemporary Canadian painter and art instructor based in Port Coquitlam, British Columbia. I work primarily as an oil painter and am known for soft plein air landscapes, modern still lifes, and portraiture. I enjoy how light, shadow, and colour temperature form the fundamental elements of a scene with my goal of blending representation with Impressionistic aesthetics.
Michael
Colour mixing has to be one of the topics that comes up most in workshops and demo's. I decided to make a short video about mixing with white, as it is the main colour that [...]
Private & Semi Private Lessons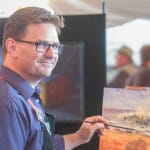 I offer private lessons (1 person) and semi private lessons (up to 4 people) for those looking for a more focused instruction.
My current pricing is $35/hr for private lessons, and $50/hr for semi private lessons (up to 4 people), 2 hours minimum. Price includes travel to your location/home as far west as West Vancouver and as far east as Mission.
Our Time, Our Town. The portraits reveal a story of our time and our town. An exhibition with Denise Maxwell, Michael King, Teesa Christie, Tori Lockwood & Zeny Nielson at Leigh Square Community Arts Village, Port Coquitlam.
Show Duration: October 29 – December 7, 2015
Opening Reception: November 7th, 4-6pm. Please join us!