I
was involved a series, by Opus Art Supplies, that covers discussions with various artists about how they deal with their inner critic. The concept is based on a quote by Vincent Van Gogh, "If you hear a voice within you say you cannot paint, then by all means paint, and that voice will be silenced."
I discuss how I use a process to move me through my work and make decisions instead of letting the inner critic manifest.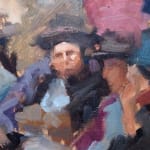 M
y 2015 workshop schedule is up, with four workshops covering different topics at various times of the year.
I have added a new workshop titled 'Simplifying the Complex' for those looking to paint more complex scenes but are too intimidated to jump in.
'Portraiture Defined' has made it back into the mix by request. It's a great workshop to get to know the elegance of portraiture whether starting out or as a refresher.
For beginners and those struggling with painting, 'Breaking Free of the Amateur Style' provides an eye opener on how to easily improve your work with a variety of concepts and techniques.
Lastly, 'Painting Essentials' is slated for the fall to help everyone transition back into painting after the summer rush.

I
am a dedicated plein air & studio oil painter with an associate membership in
Oil painters of America,
a member of 
The Federation of Canadian Artists
and the founder of
PleinAirBC.com
.